Pocket-lint slipped in one more iPad 3 rumor before Apple's big announcement today at the Yerba Buena Center for the Arts in San Francisco. The blog claims they have all but confirmed that the iPad 3 will contain a new haptic display technology created by Senseg.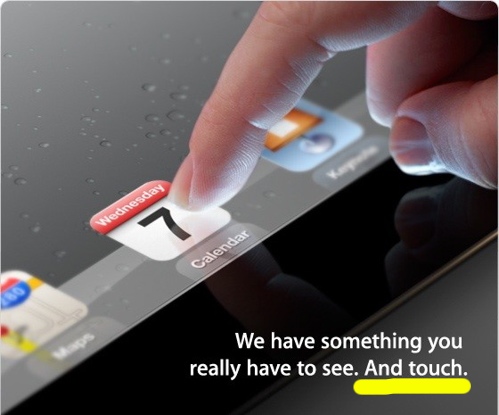 The advanced technology called E-Sense will turn the iPad 3's rumored 2048-by-1536 Retina display into a "feel screen" by giving objects texture when touched. This would give playing games or reading books a hole new dimension that we've never experienced before.
Pocket-lint believes that the tagline on Apple's event invitation is just one hint that the iPad 3 will include Senseg's advanced touch features:
"We have something you really have to see. And touch."
The blog also points to a statement made by Senseg senior vice president Ville Mäkinen in 2011 as proof they are working with Apple:
"The aim is to make a corrugated surface feel corrugated, a rough surface rough, a soft surface soft. The first products will ship by the end of this year and again Nokia is not Senseg's first port of call. We are currently working with a certain tablet maker based in Cupertino."
When asked about a possible announcement today a Senseg spokesman told Pocket-lint: "We won't be making any statements until after Apple's announcement." Senseg's technical marketing manager Petri Jekonen told The Guardian he had "no comment" when asked a similar question yesterday.
Here is a demo of Senseg's technology in action.