Less cables and more convenience is on its way to the iPad 2 thanks to a new charging and mounting solution from LaunchPort. The PowerShuttle comes in black and white to match the iPad 2, as serves as an exterior case. The magic happens when the PowerShuttle is coupled with a charging station.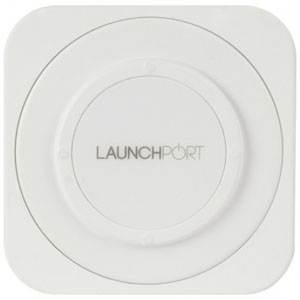 Two different stations are available, the WallStation and a BaseStation. These are magnetic iPad 2 mounts that connect wirelessly to the PowerShuttle, mounting the tablet. Not only this, but the device begins to charge immediately when it's magnetically attached to the station.
No more hunting for USB chargers or fumbling with cables to charge the iPad. The accessory uses inductive charging to send power through the PowerShuttle and to the iPad battery. The BaseStation is angled for tabletop use including typing and viewing media, while the WallStation (pictured above) can be installed on a wall, hiding all of the wires, internal components and magnets inside.
The magnets hold the iPad 2 securely in place and charging happens automatically, and the iPad can be rotated in any direction. The magnets on the PowerShuttle case are strong enough to hold the iPad up on another metal surface such as the refrigerator door. PowerShuttle even amplifies the iPad sound thanks to an integrated wave guide.
LaunchPort was among several charging solutions showcased at CES in Las Vegas this year. The PowerShuttle is priced at $149, while the BaseStation and WallStation will run $199 each.