The Chinese website WeiPhone has posted a few images of what they claim is the rear aluminum shell of the second-generation iPad mini. It's unknown if these are real or fake, but manufacturer AU Optronics has purportedly started manufacturing displays for the new tablet. So it's possible that these are in production too.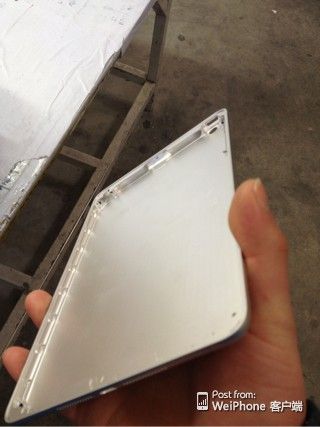 The images show an odd, possible pre-production, blue logo, and a thicker housing, which does coincide with current Retina display rumors. The iPad 3 saw a bump in thickness when it was released with Retina display in 2012. The only reason we're considering these images is because WeiPhone has a decent record of publishing leaked Apple images, like it did with the iPad 3's logic board in 2011.
The iPad mini is also expected to feature an upgraded processor, and more RAM. The only downside is all the upgrades are expected to increase production costs, which could force Apple to raise the price of the new tablet. The iPad mini is currently $329 for the cheapest model, and $659 for the LTE 64GB model.