If the iPad 3 dock connector parts pictured below are real, then the next generation tablet will feature a slimmer, smaller connector. Although the parts have the same 30-pin configuration, the form factor is streamlined and would result in incompatibilities with current dock connector accessories. The parts were revealed by a Asian supplier website and represent an iPad 3 prototype design.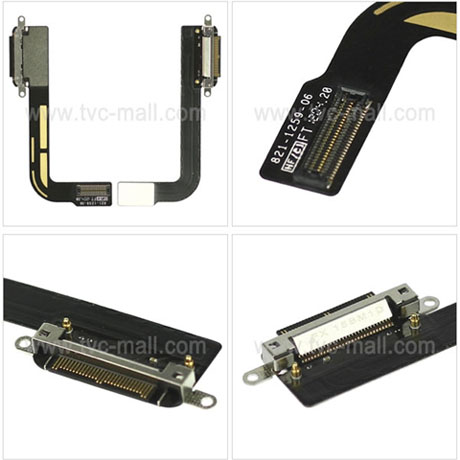 There's no telling if this iPad 3 prototype is the production model, however Macotakara claims the device is ready to be manufactured in January and could be released as early as March 2012. A change in the dock connector size would make the iPad 3 the first mobile device since the 2003 iPod not to use Apple's standard size cables.
It's possible that if a new connector is introduced on the iPad 3, other Apple products including the iPhone would follow. A simple adapter could be produced for backward compatibility with larger dock connectors assuming the 30-pin innards of the parts have not changed. A smaller connector would give Apple more latitude in designing even thinner and lighter mobile devices.
Macotakara also reported that the iPad 3 would feature the same size screen as the iPad and iPad 2, however it's not clear whether or not Apple will increase the screen resolution. Previous leaks indicated Apple was already testing retina displays for a future iPad design. The model with a higher-resolution display might even be sold next to a standard screen model, and named the iPad Pro.
Leaked components have a mixed track record when it comes to predicting the final product released to consumers. Such a drastic change to the iPad connector would certainly be a big jump and force current Apple device owners to run out and purchase updates to their accessories. A spring 2012 release would keep the iPad on an annual refresh cycle. We may have to wait until then for definitive proof that the dock connector has been redesigned.