Several weeks ago, rumors emerged that a beefed up A8 processor, the A8X, would power the iPad Pro, a 12.9" Retina display tablet expected to debut sometime in early 2015. Now a leaked photo has surfaced of a purported logic board for the next generation iPad Air sporting an A8X, suggesting we may see the new chip sooner than expected.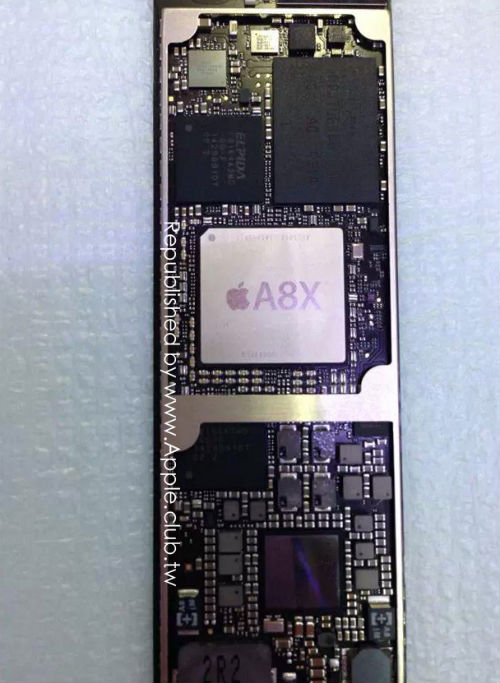 The photo, which was leaked by Apple.club.tw on Monday, not only shows an A8X processor, but what appears to be a 2GB Elpida RAM module as well. There has been speculation about the RAM upgrade, as there have been rumors that the new tablet will have split-screen multitasking functionality, which would require some extra horsepower. We'll know soon enough, as Apple is expected to unveil the new iPad Air at a media event this Thursday, October 16th.
Aside from the above, the iPad Air 2 will likely be equipped with a Touch ID fingerprint sensor and possibly a higher resolution display. It may also upgrade from a 5 to 8 megapixel camera, which the new iPhone 6 and 6 Plus are equipped with.
The event is set to take place at the Town Hall Auditorium on Apple's Cupertino campus, starting at 10 AM PDT, 1 PM EDT. It will be live streamed on Apple's site.