A page for a mobile version of Lightroom appeared on Adobe's website before being pulled after an inquiry about the product by 9to5Mac. Adobe Photoshop Lightroom is a popular photo editing suite for Windows and OS X. A mobile version optimized for tablets will surely be a popular item.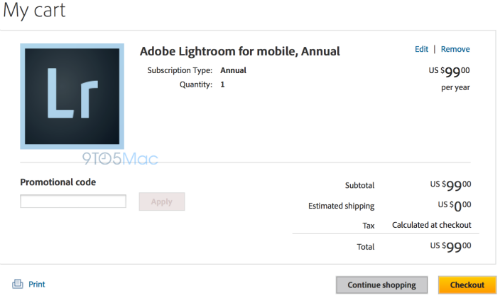 The Adobe website did not specifically list the iPad as a supported device, but a chat representative told 9to5Mac that it is built for Apple's tablet. The representative also noted that the mobile version would be similar to the desktop version.
According to the screenshot obtained by 9to5Mac, the Lightroom mobile version will cost $99 a year with an Adobe Creative Cloud subscription. You can learn more about Lightroom and Adobe's Creative Cloud on Adobe.com.