Many magazines and content providers on the web are expected to create their own iPad applications, and several of these same companies have already developed iPhone apps. The winds of change are on the web however, and several major websites have started to develop full fledged Flash-free versions of their content specifically for the iPad's web browser.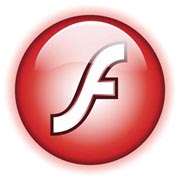 Companies including Virgin America, National Public Radio (NPR) and the Wall Street Journal (WSJ) have already jumped on the Flash-free bandwagon, at least for an iPad-only landing page. Industry watchers expect more media organizations could follow suit in the coming weeks before iPad launch.
The battle between Apple and Adobe over a lack of Flash support on the iPad has been public and rancorous. According to Gawker Media, Apple CEO Steve Jobs told the WSJ that "the iPad's battery performance would be degraded from 10 hours to 1.5 hours if it had to spend its CPU cycles decoding Flash."
Jobs has made no secret of the fact that he believes Flash is inefficient, buggy software and that's why it was never included on the iPhone OS. He also cited "security holes" and called Flash obsolete technology.
Adobe and its employees haven't stayed silent on the issue, either. In an interview with Edible Apple, Adobe's director of technology strategy and development for Flash, Anup Mura pointed to recent improvements forthcoming in Flash 10.1. Mura explains, "we've actually done some optimizations to look at where flash is on a web page, and if content is off-screen, we actually suspend that flash instance, so that there's extra processing not happening off-screen."
This may be too little, too late for Apple. The company has been pushing for wider adoption of the HTML5 standard to replace Flash. With the debut of the YouTube iPhone app, Google made its videos compatible with iPhone OS using the H.264 standard, and others such as Vimeo have followed suit. YouTube is now testing an HTML5 version of its streaming video.