iPad notification banners are useful, but sometimes the text gets cut off since Apple limits their size. If you've ever wished you could extend the width of the notifications that pop up at the top of the iPad screen, then your tweak has arrived. NCPad stretches the banner to the entire width of the iPad display.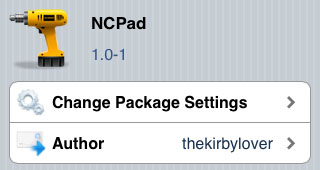 This simple tweak makes the banners wide enough so that more text is displayed, conveying additional information. You can find NCPad in Cydia under Sections -> Tweaks or use the Search function to find the package. NCPad has no settings to configure and can be installed free of charge.
The iOS notification center size is not affected by NCPad, only the pop up banners that appear when you're using another app. The tweak comes to us from a developer named thekirbylover on the ModMyi repository. Once the package is installed, you can respring the iPad for the change to take effect. To shrink notification banners back to their original size, just remove the NCPad package in Cydia under Manage -> Packages.
For instructions on how to jailbreak your iPad so you can enjoy tweaks like this one, see our in-depth iOS 5.1.1 iPad jailbreak tutorial. With a few simple steps you can jailbreak any iPad thanks to Absinthe 2.0.