Actor Matthew Modine has released an iPad app to mark the 25th anniversary of Full Metal Jacket. The app is a digital version of Modine's Full Metal Jacket Diary which was released in 2005. Warner Home Video also released the film in a 25th anniversary blu-ray edition with a new featurette entitled "Full Metal Jacket: Between Good and Evil".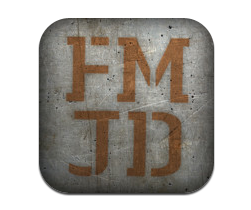 Modine's iPad app is currently available for $14.99 from the App Store. It includes the complete out-of-print book from 2005, a nearly 4 hour audiobook narrated by Modine, over 400 high-res photos and personal documents scanned from original negatives and source material, plus more. Read on for a complete list of features.
Full Metal Jacket is the 1987 Vietnam War-era film directed by Stanley Kubrick. It stars Modin as Pvt. J.T. 'Joker' Davis -- a U.S. Marine who observes the dehumanizing effects of the war on his fellow Marine recruits.
Full Metal Jacket Diary Features:
- Modine's complete diary text from his out-of-print, award-winning, metal-bound book, FULL METAL JACKET DIARY
- 5 chapters chronicling the filmmaking process – Private Life, Vietnam, Boot Camp, On Leave, and Boot Camp Redux
- A nearly 4 hour audiobook with Modine's absorbing narration, produced with immersive sound effects and original music
- Over 400 high-res photos and personal documents scanned from original negatives and source material
- Detailed information on photos including dates, locations, and all-new remembrances written by Modine
- Three bonus galleries featuring select photo restoration comparisons
- Interactive "favorites" gallery designed to simulate Matthew's original contact sheets used in compiling his book
- Store your favorite photos and audio clips for later
- Select your favorite photos and tweet your friends!
- "What Was Stanley Like?" – A one-minute fully animated video featuring Modine's narration and photographs
- Handwritten on-screen "help" – get help from Matthew at any time while reading or listening to his diary
- Links to related articles, videos, content, and much more!
- Compatible with iPad 1 and 2, and optimized for the new iPad with HD Retina display