Minecraft Pocket Edition for iOS has been upgraded to version 0.9.0. The upgrade brings several improvements including infinite worlds and a new interaction button so you "never accidentally punch a sheep again". Players can also now explore caves, abandoned mineshafts / villages and tame wild wolves. Other new features include new flowers, new blocks including Monster Eggs, new mobs, and new biomes from the PC version.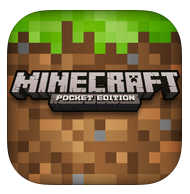 Minecraft Pocket Edition version 0.9.0 is available for $6.99 on the App Store, or as a free OTA update for existing customers. The iOS version includes Survival and Creative modes and Wi-Fi multiplayer mode. The game supports all devices running iOS 5.0 or later.
In case you have been living under a rock, Minecraft is the insanely popular sandbox game created by developer Markus "Notch" Persson. The game is an open world game, meaning there is no final goal for players to achieve. Players can build entire worlds using 3D blocks in Creative mode, or fight to stay alive by acquiring resources like food and health in Survival mode.
The game has been released for the PC, iOS, Android, Xbox 360 and PlayStation 3. It has also spawned plenty of merchandise including official LEGO sets and plush dolls based on the hostile mob creatures that lurk in the night.