Keep an eye out for the MirrorCase, which deceptively looks just like a normal iPad typing accessory. In reality, the case contains a covert mirror which allows the iPad to record video and snap photos while the device is horizontal. The effect is achieved thanks to a built-in mirror and software which inverts the image from the iPad rear camera.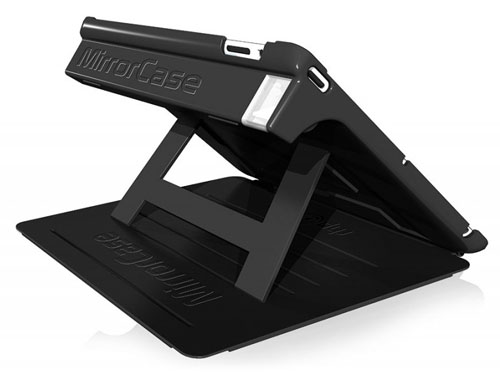 MirrorCase is currently a project on Kickstarter, however an iPhone version of the MirrorCase is already on the market. Besides the potential for secretly capturing images of unsuspecting subjects, MirrorCase can be useful for recording lectures or seminars directly from your desk with a minimum of distraction. The MirrorCase is designed to fit second, third and fourth generation iPads.
Not only does the MirrorCase include the adjustable angle internal mirror, but a built-in kickstand can be aligned in 6 different positions for comfortable viewing. An acoustic port redirects sound from the iPad speaker towards the user, and the folio cover includes magnets to automatically sleep and wake the iPad when closed or opened.
Assuming the MirrorCase goes into production, the retail version will weigh 0.66 pounds and cost $80. The first 100 backers of the project on Kickstarter can get the case for $49 with shipping slated to begin in August 2013.