Since we first posted news about the modulR iPad case and accessory system way back in late March, we've been eagerly awaiting some new info. modulR is a one-of-a-kind iPad accessory that begins as a case but, when paired with modulR accessories, becomes a wall mount, car mount, frame/stand, and pairs with the modulR shoulder strap.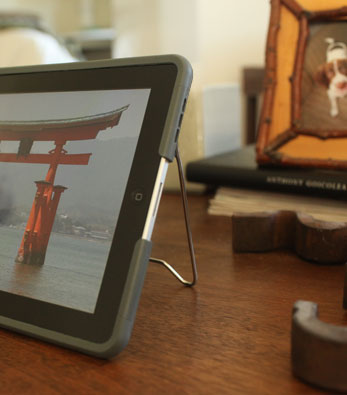 Unfortunately, news out of the modulR camp has been sparse. There remains no exact release date for modulR. modulR and its accessories remain slated for availability come "Summer 2010". Additionally, to date, the only pictures of the modulR case system were actually artist renderings, not actual photos of the product in tangible form.
Earlier today, modulR posted the first real-world photos of their product (one of which is shown above) on their TwitPic account. In total, 6 photos were posted, including 3 of the case/system in usage scenarios and 3 close-ups of the case. The rest of the photos follow this article.
One can only presume that the photos mean modulR is well out of the prototype phase and is in or nearing production. In any event, it certainly means modulR is inching closer to landing in the hands of eager iPad owners. Stay tuned over the next few weeks for more information regarding modulR's availability.
You can learn more about the modulR case system, including more views of the product and its accessories, in our iPad Accessory Guide or by visiting the modulR Case home page. At the modulR site, you can sign up to be notified of modulR's availability. You can also join our ongoing modulR discussion in our forums.