ModulR has launched a new website with pre-order and pricing information on their already popular iPad Case and Accessory System. Not only this, but the company has introduced a new option, the Slim Mount.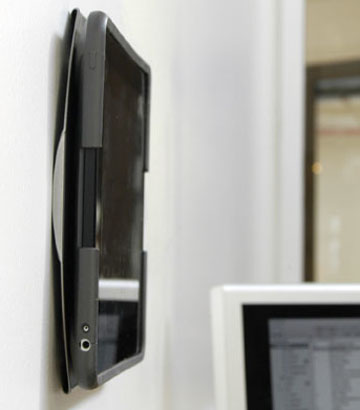 Pictured here, the Slim Mount is a simple wall mount for the iPad that complements the other options in the modulR iPad system. Less expensive and with no moving parts, the Slim Mount is an alternative to the forthcoming Swing Mount that swivels away from the wall. Slim Mount will be available for pre-order in mid-June for $29.
The iPad Case + Cover will retail for $59, and forms the core of the modulR iPad Collection. The case protects the iPad while making it possible to attach the device directly to each individual accessory without any tools.
Another example is the Quick Stand. This display stand will also be available for pre-order in mid-June at a price of $19. When the iPad is attached inside the Case + Cover, the Quick Stand turns the device into an instant picture frame or movie viewer.
ModulR just recently released photos of their iPad case and accessories. The buzz surrounding their products to this point was based on renderings and concepts alone.
Other options not yet priced include the Car Mount and Shoulder Strap. These are still in the development stages as actual photos of the products have not been seen yet. The latest renderings look sleek and functional and we're looking forward to seeing these additions to the modulR Case and Accessory System.
Get more details including reviews and user ratings on modulR from our iPad Accessory Guide or join the modulR discussion in our forums.
[ modulR ]