The modulR iPad case system has two new additions to make your iPad even more versatile and functional on the go. Two different strap designs are now available for $14.99 each. The nodes on the back of modulR's iPad case make it possible to slide and lock the pressure clips at the end of each strap into different configurations. The first strap was first announced with the original product concept design and is made to sling the iPad over a shoulder.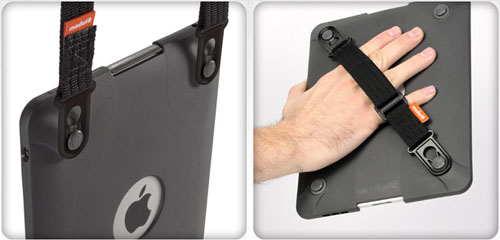 The shoulder strap can be set up to hang the iPad over one shoulder like a purse for quick access or flipped behind the back like a messenger bag. Thanks to the adjustable strap and pressure clips the iPad can be hung on the shoulder strap in portrait or landscape orientation.
The other strap accessory is a hand strap. This adjustable device attaches to the modulR case nodes in the same manner as the shoulder strap, and provides two different setups. One has the hand strap vertically between nodes on one side of the iPad, and the other allows a diagonal position so the user's hand can rest in the middle of the tablet.
In order to use the straps, the modulR case and cover is required. The case and cover is available for $49.00 and makes it possible to use your iPad with any compatible modulR accessory. Currently released accessories include the two strap designs, a slim wall mount, and quick stand. A car headrest strap and universal swing arm mount are in the works and should be released soon.
ModulR offers package deals when purchasing several case system accessories together. Both the hand and shoulder straps are offered as a choice with all three starter kits. Starter kit one is available for $59 and includes the case and one strap. Starter kit two comes with the case, choice of strap and the quick stand for $75. Starter kit three has these accessories and adds the slim wall mount for $99. This saves a few bucks considering that buying all of these parts separately would cost a total of $112.
ModulR is sure to continue developing useful additions to its case system. For more information on the modulR case system see these first look photos of the case, quick stand and slim mount. Check back soon for all the latest news on iPad accessories from modulR.