For those who aren't already convinced, Unbox Therapy did some legwork to prove once and for all the next generation iPad will include Apple's Touch ID system. Leaked photos have shown the iPhone 5s-style home button on an upcoming iPad mini, however this is the first time someone has used iPad 5 parts to confirm the new hardware design.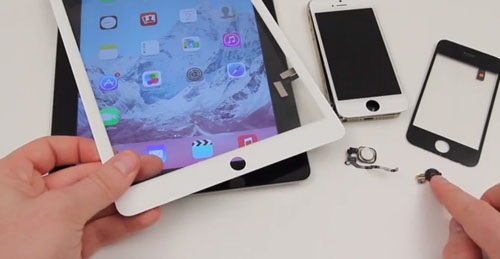 In the video below, an iPhone 5s is disassembled to extract the fingerprint sensor. While an older iPhone home button will not fit into the iPad 5 front bezel, the iPhone 5s home button meshes perfectly with the new part. Considering that Apple is launching two new iPad models, it seems logical that they would both carry the upgraded home button.
The iPad 5 is rumored to feature a 64-bit A7 processor similar to the one found in the iPhone 5s. This chip has a special area dedicated to securely storing fingerprint data accessed by the Touch ID system. Touch ID will simplify security on the iPad 5, making it unnecessary to enter a passcode every time the device is unlocked.
Touch ID is also used to authorize purchases from Apple. The iPad 5 parts that have already leaked reveal a narrower, iPad mini-inspired bezel and a thinner profile with a flat back. Both the next generation iPad mini and the iPad 5 are likely to include an 8-megapixel rear camera, similar to the iPhone 4S and later. Apple's flagship tablet is expected to launch later this month in three colors: gold, space gray and silver.