The upcoming iPad refresh is widely expected to take design cues from the iPad mini. Multiple reports and leaked photos seem to confirm the new look, including snaps of redesigned back iPad 5 panels and even a video showing a partially assembled iPad 5. It comes as no surprise that more parts have surfaced, this time in Australia.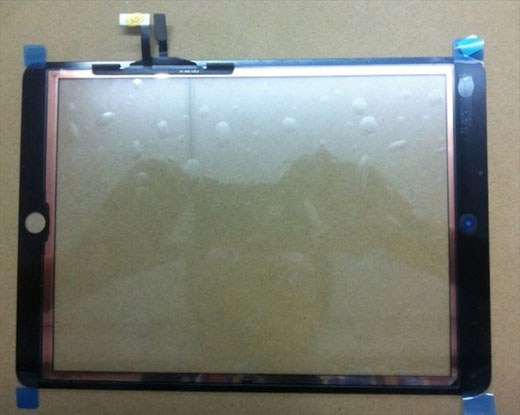 Photos from MacFixit further confirm thinner bezels on the front iPad 5 panel. While the display size remains the same as the current model tablet, Apple clearly plans to trim the bezel thickness to more closely match the proportions of the iPad mini. The new tablet will likely retain the same Retina display found in the fourth generation iPad.
The iPad Screen/Digitizer part is described in detail by MacFixit, which plans to post pricing and availability information when the item is in stock.
- The display area is the same as the iPad Retina.
- The edges of the frame are narrower using the same style as the iPad mini.
- The ITO (Indium tin oxide) is the same as the iPad mini.
- There are now 2 connectors instead of 1.
- The connectors have been changed from FFC (Flat Flexible Cable, like the iPad 2/3/4) to FPC (Flexible Printed Circuits, like the iPhone 4/5).
Reports indicate the iPad 5 has separate volume up/down buttons much like the iPad mini. The new hardware could include a number of internal updates, including an Apple A7 processor.
When it comes to the smaller tablet, Apple is expected to launch a Retina display iPad mini 2 around the same time as the iPad 5. Rumors of production delays put the device launch as late as next spring, however other reports point to an October release, ahead of the holiday shopping season.