It's time to look at some must have iOS tweaks now that you've freed your iPad or iPad mini using the new evasi0n jailbreak tool. Our first tweak isn't a very flashy one, but it will make working or writing emails on your tablet so much easier you'll never want to go back to the old Apple way.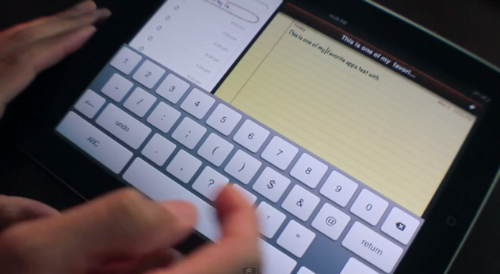 SwipeSelection is based off a concept video created by YouTube user Daniel Hooper. The idea was to make editing text on your iOS device easier by replacing the old tapping method with a more precise finger drag to move the cursor. The video and jailbreak tweak were so popular iPad fans started a campaign to have Apple officially add it to its next iOS update, but unfortunately Apple did not listen. Someone even tried to recreate SwipeSelection by releasing an official app, but it was met with negative reviews since Apple's TOS prevents access to the global keyboard.
Once installed, SwipeSelection allows you to use one or two fingers to slide the cursor instead of having to tap where you want it to appear. This is a much quicker, easier and better way to edit text on your iPad because it eliminates frustrating fat-finger mistakes. SwipeSelection also allows you to easily delete or copy entire sentences by holding the shift key and dragging your finger over the text you want to highlight. This is all demonstrated in the original concept video which I've re-posted below.
SwipeSelection is free to download from the BigBoss repo in Cydia. It works with all iOS devices running iOS 4, 5 or 6.