That's right iPad fans. Both the 9.7-inch iPad and the iPad mini will be refreshed with improved hardware before the end of this year. DigiTimes issued a report breaking down production and release dates for both Apple tablets in the works. Sources include Taiwan-based supply chain manufacturers, who claim the iPad mini 2 will not achieve volume production until November 2013.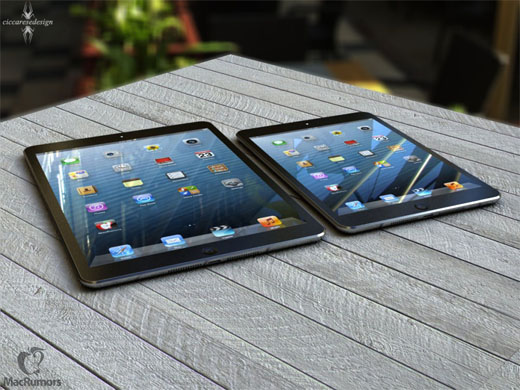 It's not clear whether or not the next generation iPad mini has been postponed due to component shortages or if Apple is looking to boost full-size iPad sales ahead of the revamped iPad mini launch. The fifth-generation iPad is expected to enter mass production starting in July, with the product hitting shelves during the third quarter of this year. The photo above from CiccareseDesign is an artist's rendering of the iPad mini 2 and redesigned iPad 5 side-by-side.
According to DigiTimes:
The next-generation 9.7-inch iPad is expected to adopt a thin-film-type touch panel solution to reduce its weight by 20-30% and will adopt a slim bezel design to increase the display area. The new iPad's industrial design reportedly will also be modified, the sources said.
Apple is expected to ship eight million iPad 5 units in Q3 of 2013, with this number increasing during the holiday season. When it comes to the iPad mini, industry watchers are looking for Apple to produce the 7.9-inch iOS tablet with a Retina display. Not only this, but leaked iPad mini 2 specs point to a faster processor and improved camera. Some reports have even described a reduced-price iPad mini that would help Apple compete with existing tablets in the $199 - $249 range.
In any case, look for future iPad hardware to be revealed later this year. It's possible the iPad 5 or iPad mini 2 will be announced along with the iPhone 5S ahead of the holiday shopping season.