Apple fans can expect a lot of upcoming next-generation iPad rumors now that the iPhone 5c and iPhone 5s have been officially announced. The first rumor comes from the French blog MacGeneration, who claims Apple will announce the iPad 5 and iPad mini 2 on October 15th.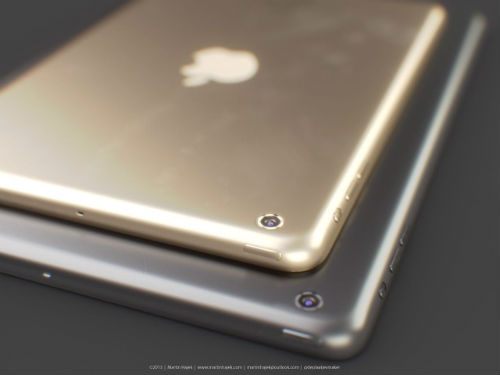 The 5th-generation iPad is rumored to be lighter and smaller than its predecessor, and it will feature a thinner bezel like the iPad mini, if any of the previously leaked images can be trusted.
The iPad mini 2 should also get a bump in specs and receive its first Retina display. Apple fans who are still hoping for a more affordable iPad mini model should prepare themselves to be disappointed. Apple proved its disinterest in producing "low-cost" devices with the launch of the iPhone 5c.
It is also unknown if the new iPad lineup will be as colorful as the new iPhone lineup, but that didn't stop Apple concept artist, Martin Hajek from creating images of a gold iPad mini and space gray iPad 5. You can see his mockup image posted above, and his full gallery here.
Apple is also expected to announce several new Macs, OS X Mavericks, and an update to Apple TV sometime before the end of this year.