Four months after its official release, the ultra popular productivity suite, Microsoft Office for iPad, has added some of the most sought after features in its latest update.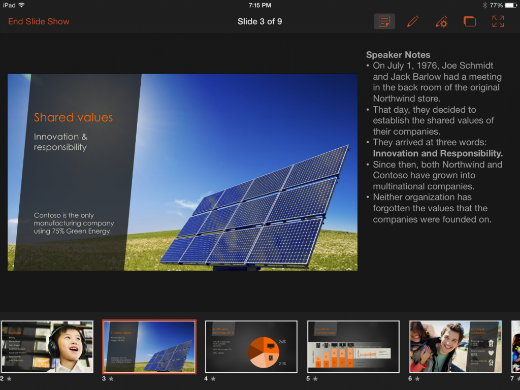 Powerpoint for iPad now includes "Presenter View," a very useful tool that allows the presenter to see more information on his iPad screen than what is being projected to the audience. For example, the presenter will be able to see notes and what's coming next and more. Additionally, integrating video and audio recordings into presentations has become easier. They now play directly from Powerpoint for iPad and you can insert them directly from your Camera Roll. There is also a new pen and eraser setting that allows you to make annotations during presentations more easily. You can now edit hypertext links from within the app as well.
Excel for iPad adds the ability to interact with PivotTables - you can now expand, collapse, filter, sort, show details and refresh them, as long as all their data is contained in the workbook. You can now change their appearance and layout as well. Workbooks now offer a "flick" gesture tool that makes selecting a large amount of data much easier - simply flick down on a column to select its entire contents. For those of you who use keyboards with your iPads, Microsoft has added support for keyboard shortcuts, making a lot of tasks a lot easier. You also now have a bit more control over printing from excel - several more paper sizes and scaling options have been added.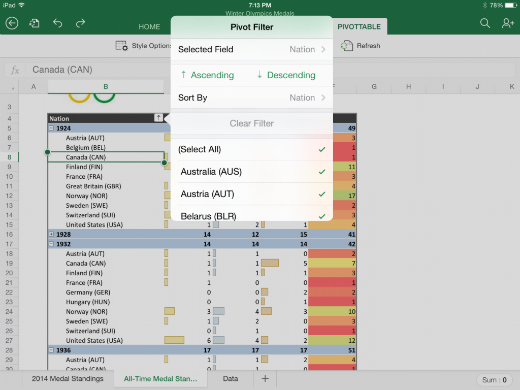 Microsoft also added the three top requested features that affect all three members of the suite. Export to PDF is now available in the Share menu in Word, Excel and PowerPoint. Crop and Reset allows you to crop pictures and remove all changes you've made if you so wish. Finally, you can now import third party fonts.
In order to use Microsoft Office for iPad, you will need an Office 365 subscription, which offers a 30 day trial period. After that, you'll have to choose one of several plans. You can see more about the update here.