UPDATE: For the time being, the 16GB WiFi + 3G is back in stock at AT&T's online store, the 32GB remains sold out.
The AT&T Mobility online store has dropped prices again on the first-generation iPad 3G + Wi-Fi. The 32GB model already sold out, and now a 64GB iPad can be bought new for just $529 contract-free. This is a full $300 off the original price, a steep 36 percent discount for those who don't feel like doing the math.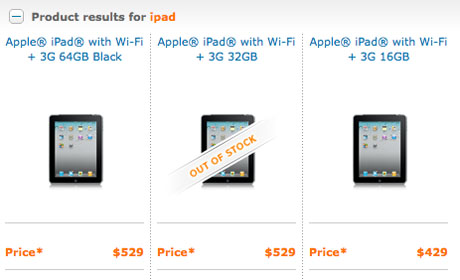 Apple has not followed suit, holding prices at just $100 off the original selling price. AT&T is offering the 16GB iPad for $429, less than the Wi-Fi only model entry level pricing at launch. Refurbished iPads can be purchased from Apple for even less.
It's clear that inventories of the original iPad must be liquidated as all of the attention now focuses on its successor, the iPad 2. With demand through the roof, supplies of the iPad 2 have been limited as stores can't keep the device in stock. The iPad 2 will take 4-5 weeks to ship for online customers ordering today.
Reports have indicated that a majority of iPad 2 buyers are first-time iPad owners. For those who want to get their foot in the door and don't need the latest and greatest model, the original iPad price-slashing provides a great opportunity. Stocks won't last long if AT&T begins to offer the same discount in stores as they have offered online.
The iPad 2 is now offered on AT&T and Verizon, with both carriers providing no-contract data plans on the tablet. The original iPad only works with AT&T, and the data plans can be purchased on an as-needed basis month-to-month. Current data plans run $14.99 per month for 250MB of usage, or $25 per month for 2GB. AT&T also offers postpaid data plans for existing customers.
If you're not in the mood to search for a used iPad online and worry about getting ripped off, now is the time to jump in and buy the original model brand new at the AT&T Mobility online store for a huge discount while supplies last.