Target is offering $100 off the original iPad mini for Father's Day. The deal is in-store only and there seems to be very limited supply. You can find out what locations have the iPad mini in stock by using your zip code here. You can also nab a 16GB Retina display model for only $369 (normally $399) from Target's online store or at any retail location.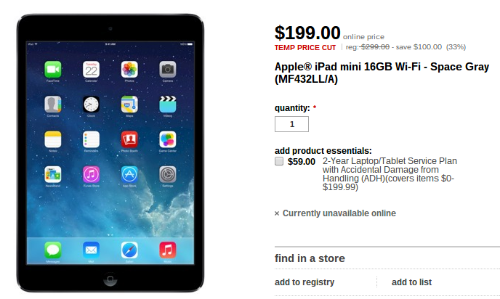 The original iPad mini doesn't feature a Retina display, but it will support iOS 8 when the new OS is released this fall. This means the first-generation tablet still has a lot of life left in it making the Target sale very tempting for shoppers looking for a great deal on an older model iPad.
Also don't forget, Apple is expected to release a third-generation iPad mini and new iPad in a few months. It is likely that other retailers will start discounting older iPad models to make room for the newer devices before Apple's official product refresh in late-September or October. There is a good chance you will be able to find another great deal on the iPad mini or iPad before the end of the year if you can't afford to buy one now.