The creators of the original Padcaster video case for the Apple iPad have launched another Kickstarter campaign to fund the Padcaster Mini. The Padcaster is an aluminum frame that allows users to attach video gear to their iPad making it easier to shoot, edit and distribute HD video on their tablet. The Padcaster is so popular that it was recently featured in Apple's "Your Verse" iPad Air commercial.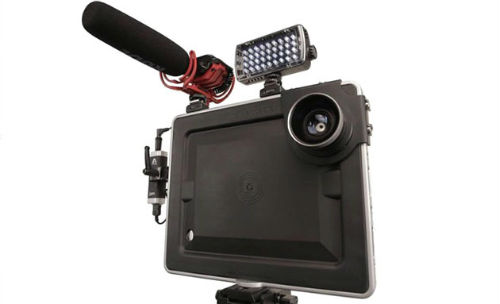 The iPad mini version features threaded holes for attaching video accessories, and a bracket for 72mm and 58mm lens adapters. The Padcaster has also been used as a DSLR cage, teleprompter, and as a "tool to help disabled children in the classroom," according to the Kickstarter description.
The Padcaster Kit and Padcaster Air Kit are available for $149 and $159 directly from ThePadcaster.com.
The Padcaster Mini has reached half its goal on Kickstarter with 27 days to go. A $99 pledge will nab you one of the first 200 Padcaster Minis to be produced.