One drag about the iPad is no built-in ability to set up multiple user accounts for sharing the device. This becomes especially important when it comes to web browsing, since a trail of sites visited as well as cookies and passwords are left behind. Thanks to Passtouch, iPad users now have another option to privately share the iPad web browser.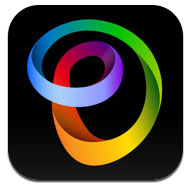 Not only does Passtouch make it possible to set things up for several users, but the app provides gesture-based logins and stores passwords for effortless secure website access. Instead of remembering passwords for everything, Passtouch remembers them for you automatically when you login.
This feature alone can save time and effort, even without the multi-user functions. The Passtouch password alternative avoids typing or having to remember a standard password from the get-go, since the touch screen is used to store a series of gestures instead. After drawing your own personal line across the various symbols and colors Passtouch generates a securely stored authentication code from the entry.
According to Passtouch, remembering your password alternative is enhanced by muscle memory and becomes effortless after a few entries. After one or more users are set up with their own Passtouch Browser account, all web browsing for each user is private and secure. History and bookmarks are stored separately inside each Passtouch profile. After logging into websites such as Facebook, account information is stored automatically. This means the next time you go to the web site there's no reason to re-enter your username and password.
Passtouch includes full-screen web browsing, and is available on iTunes for $1.99. A free, ad supported version is also available. Until Apple decides to add multi-user profiles to iOS, Passtouch provides one option to help improve iPad sharing between several people.