Patently Apple has discovered a big change Apple is planning for the iPad operating system. Current Apple desktops have a feature called Spaces, which allows users to have multiple virtual desktops on one screen. Moving between screens quickly requires keystrokes and running programs can be organized on each screen for better productivity.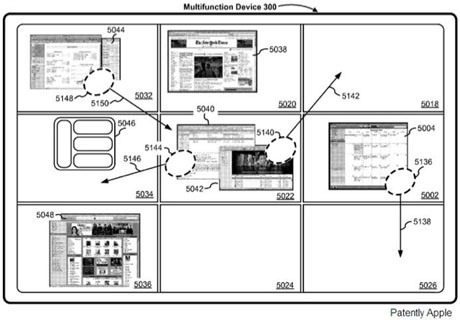 Apple is working on a version of Spaces for the iPad, with a touch interface that would allow for moving between screens. This would increase the screen area on the iPad and make it easy to organize running apps. Windows can be moved from one virtual screen to another by dragging them to the edge of the screen.
Swiping with multiple fingers would move the display from one virtual desktop to the next, with special two-finger pinching gestures in the corner of the iPad performing different functions. This would add more room to the tablet display and make it possible to keep more than one app open and perform more complex tasks on the iPad. Apple could be planning to implement the feature in the next version of its mobile operating system, iOS 5.
Developer beta versions of iOS 4.3 had additional gestures built-in that made the home button unnecessary, causing many to speculate that the iPad 2 wouldn't even have a home button. This rumor didn't come true, however the added gestures have hinted that Apple has been thinking about the change. Using multiple finger swipes pulled up the multitasking bar and returned to the home screen, but these never made it into the final release of iOS 4.3.
Also different in the patent information is a very Mac OS X looking dock and Spaces icon on the iPad screen. This has led some to speculate that Apple has something different up its sleeve, such as a large touch-screen OS X computer of some kind that would make the iPad look like a toy. It remains to be seen if Apple will launch an iPad 3 or other new device before the holidays as some reports have indicated. Spaces would be a welcome addition to the iPad operating system.