As promised, developer Ori Kadosh has added DualShock 4 support to the jailbreak tweak Controllers for All. This means iOS owners can now use a PlayStation 3 or 4 controller to play games on any device running iOS 7.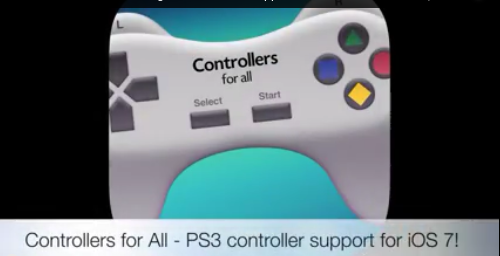 In case you missed it the first time around, Controllers for All single-handedly made jailbreaking relevant again by giving iOS users an affordable alternative to the expensive third-party iOS controllers on the market. The tweak allows users to save money by adding PlayStation DualShock support to iOS 7 devices. Controllers for All originally only supported PS3 controllers, but Kadosh is slowly making it compatible with other consoles. Hoepfully the Xbox 360 and Xbox One are next in line.
Anyone with a jailbroken device running iOS 7 can install Controllers for All and easily pair a PlayStation 3 or 4 controller with their iPad, iPhone or iPod using 5 easy steps. First you will need to buy the tweak from Cydia for $1.99. It is available in the ModMyi repo. Then you will have to install SixPack for Mac OS X, Windows or Linux, and follow the simple instructions on the page. That's it! Now you won't have to shell out $80-$100 for a third-party iOS controller.