A photo of what looks to be a possible iPad Pro industrial prototype was discovered on Chinese site Weibo.com by French site Nowhereelse.fr.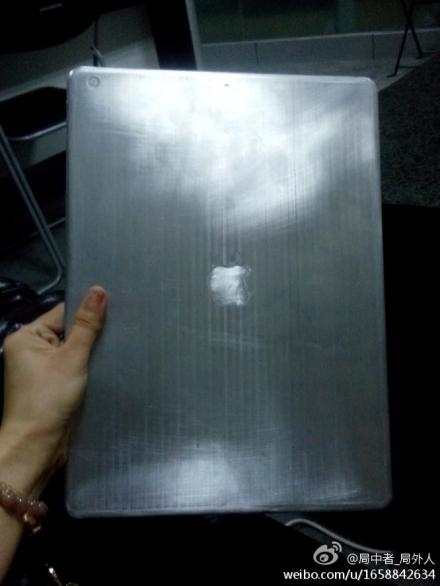 The photo shows a very rough rendering of what appears to be an aluminum back plate of a very large iPad casing. You can see an etched circle at the top left for the rear facing camera and an Apple symbol in the middle. Though it is impossible to determine the precise measurements from the picture, it is clearly larger than the 9.7" iPad Air. It isn't clear where the specifications for this mockup came from so, as always, don't take it as gospel.
At 12.9", the iPad Pro would be just a tenth of an inch smaller than the 13" Macbook Air. KGI Securities analyst Ming-Chi Kuo, who has a history of accurate predictions, has speculated on features of the iPad Pro. He believes it will have a quad-core A8 processor, Touch ID fingerprint sensor and possibly an ultra HD display. He also thinks Apple will likely "come up with a new user interface that's more innovative and intuitive, so that input will be as efficient as a device with keyboard." He estimates that it will launch sometime in early 2015.
Apple will be launching the iPad Air 2 and an upgraded iPad mini with Retina display later this year, probably shortly after the likely September launch of the iPhone 6. Both will feature A8 processors and Touch ID fingerprint sensors.