An official at a local Apple supplier in Korea told The Korea Times that a "first-tier display supplier is now producing a 12.9-inch Retina display" for a new iPad. The larger iPad is slated for a 2014 release and it will boast an "almost ultra high-definition (UHD) quality" screen with more pixels than the current iPad Air model.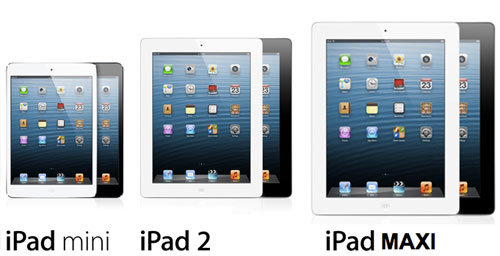 "The 12.9-inch iPad will have improved picture quality. As the Apple partner intends to boost its lineup for displays that have almost ultra high-definition (UHD) quality, the upcoming iPad will provide very clear quality similar to that of UHD."
This is not the first time we have heard about Apple manufacturing a 12-inch iPad. ETNews and even the Wall Street Journal have released reports claiming an "iPad maxi" is in the works.
According to the original report filed by ETNews the new iPad would be aimed at the digital textbook market and feature "an improved low-glare display surface that would improve viewing in classrooms."
Analyst David Hsieh also told investors Back in October that he believes Apple will release a 12.9-inch iPad with 2,732 × 2,048 resolution, along with 4.7-inch iPhone 6 and 5.7-inch iPhone with a 1,920 x 1,080 display.