Apple is working on two 12.9-inch iPad prototypes, a 2-in-1 device that would run a "Mac OS / iOS-integrated operating system" and its long rumored, basic "iPad Pro" tablet, according to the DigiTimes. Citing "sources in the supply chain," the DigiTimes points to iOS-like features being added to Mac OS 10.10 Yosemite and Apple's recently applied patents to bring a Siri-like voice assistance function to its Mac computers, as evidence that the rumor could be true. However, as 9to5Mac points out, supply chain sources are not known for making the best Apple predictions and that Tim Cook has publicly voiced his displeasure with merging tablet and laptop products.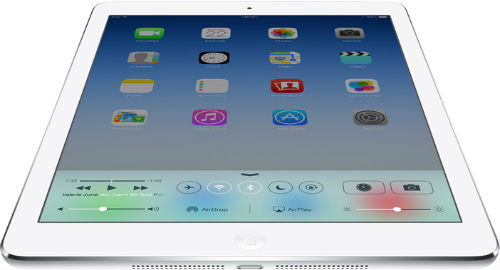 Rumored 12.9-Inch iPad May Run Both iOS and OS X
In a 2012 earnings call Cook explained why Apple would never copy Microsoft and converge an iPad with a laptop.
When asked if Apple was planning to merge its tablet and laptop products, much as Microsoft is proceeding with Windows 8, Cook responded with a quip: "You can converge a toaster and a refrigerator, but those aren't going to be pleasing to the user."

Cook elaborated that converging the iPad with a laptop would result in tradeoffs, ones Apple isn't willing to make. "We are not going to that party, but others might from a defensive point of view."
Don't forget, Steve Jobs also said in 2010 that 7-inch tablets are "useless" unless you include "sandpaper" so users could "sand their fingers down to a quarter of their size." That was three years before Apple released the iPad mini.
Even if the rumor is true and Apple is really working on a 12.9-inch iPad/laptop prototype, this does not mean the device will ever be released to the the market.
Apple is expected to announce its new iPad lineup, new iMacs and Yosemite on October 16th. It is still unclear if the 12.9-inch iPad Pro will make an appearance at the event.