Sanho has announced a new iPad charger for charging multiple iPads at the same time.
The company claims that the HyperJuice Plug is "the world's first 15,600mAh portable battery pack that can charge two iPads simultaneously." The iPad charger features two high powered USB ports and a retractable wall plug for easy recharging. There is also a smaller 10,400mAh HyperJuice Plug available.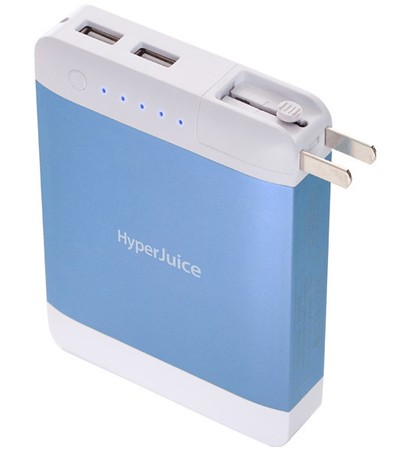 "HyperJuice Plug's innovation lies in its ability to actively distribute its 15W power across both USB ports, always delivering the maximum required charging power to connected USB devices," claims Daniel Chin, President of Sanho Corporation and inventor of the HyperJuice Plug.
Both HyperJuice Plugs are available in pink, blue, green, gold, silver, black, and include a five-level
LED battery indicator. The 10,400mAh model retails for $129.95 and the 15,600mAh version will cost you $159.95. The new HyperJuice Plugs were introduced at the Singapore PC Show on June 7, 2012. They are available for purchase at HyperJuice.com.