Logitech has made its popular Wireless Solar Keyboard more portable, and added more features with the K760. So far, the world has seen a lot of iPad keyboard cases and slim Bluetooth solutions for typing on the iPad without using the included iOS touch screen keys.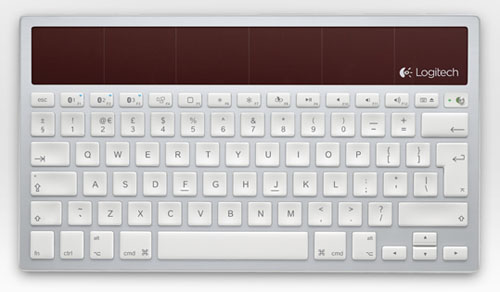 Logitech brings things a step further with the K760, allowing up to three Bluetooth devices to be paired with the keyboard effortlessly. Switch between devices with the touch of a button, whether you want to type on your Mac, iPhone, iPad, or iPod touch.
What's great about the K760 is not only the small, portable size (the unit comes sans the number pad keys featured on the K750) but the fact that the keyboard never needs batteries or recharging. Most wireless keyboards are excellent for their convenience, however keeping track of spare batteries all the time can be a drag. With solar panels built-in, the Logitech K760 never needs external power; the unit simply charges constantly thanks to daylight and interior lamps.
Battery life is estimated at three months even without the solar charger, at a typing clip of eight hours a day. The keyboard is designed not only to appeal to Mac users, but to duplicate many of the familiar Apple keyboard functions. Continuing the environmental theme of solar charging, Logitech states that the K760 is fully PVC-free construction and shipped in a recyclable box. The accessory can be purchased in the US and Europe starting in June 2012 for $79.99.