South Gate restaurant in New York now offers its wine list in a custom interactive iPad application. It may not replace the sommelier, but the iPad certainly makes selecting a bottle of wine more interesting than a paper wine list. The "wine tablet" automatically updates the wine list to reflect inventory, currently over 650 bottles.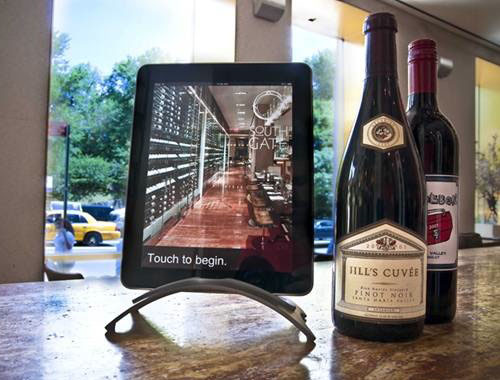 The custom SmartCellar app provides information about varietals, growing regions and details on each bottle that assist guests trying to select the perfect wine to pair with their meals. Of course servers will have to make sure the iPad is put safely away before the wine glasses are filled.
For those who are still interested in seeing a traditional list, the restaurant provides a complete copy of its "paper" wine list in PDF format on its website. The list features bottles from all over the world, including some New York state vineyards.
The sommelier at South Gate plans to use the iPad to "educate patrons on over 650 bottle wines available or invite guests to instantly access the information themselves from the iPad's fully customizable SmartCellar application with the touch of a finger." The iPad is sure to become more common as different businesses come up with creative ways to use the tablet.
Other restaurants have been spotted using the iPad as a replacement for a clipboard when greeting guests, or substituting the iPad for magazines and newspapers. South Gate, with its iPad wine lists is located at 154 Central Park South in the Jumeirah Essex House, and offers modern American cuisine. The restaurant was designed by Tony Chi and features the cuisine of executive chef Kerry Heffernan.