Just four short weeks after the iPad launch, developer @comex has released the much-hyped Spirit untethered jailbreak. With a single click, Spirit will jailbreak any iPad, iPhone or iPod Touch running firmware 3.1.x or 3.2.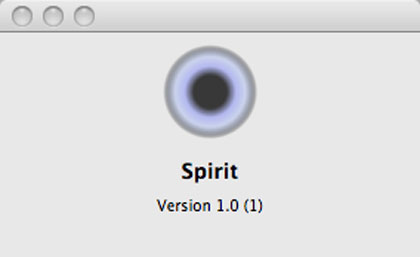 As previously reported, Spirit is a userland jailbreak, the first of its kind since iPhone OS 1.x. This type of jailbreak is effective and easy to use, however Apple can easily patch whatever security vulnerability is used by Spirit. The software does not include an unlock to allow the iPad to be used on a different wireless carrier than AT&T.

Spirit differs from "tethered" jailbreak solutions because it doesn't run until after the kernel is already running. The iPad doesn't need to be connected to a computer during the boot process to keep the jailbreak. After running Spirit, a Cydia icon appears on the home screen, providing access to the collection of apps, tweaks and hacks unapproved by Apple. From the Spirit jailbreak website:
- Spirit is an untethered jailbreak for iPad, iPhone, and iPod touch on the latest firmwares.
- Spirit is not a carrier unlock.
- If you currently are using a tethered jailbreak, you have to restore to use Spirit. Do not upgrade if you use an unlock on an iPhone 3G or 3GS. (You can, however, restore to 3.1.2 if you have SHSH blobs for that version.)
Users planning to install the Spirit jailbreak are strongly urged to back up their SHSH blobs before jailbreaking their iPad, iPhone or iPod Touch. In the event your iPad is updated to a new firmware and the jailbreak is lost, downgrading to 3.2 will require this SHSH information so the jailbreak can be re-installed.
Spirit requires an activated iPad synced with iTunes version 9.x. Cydia will appear on the home screen of a jailbroken iPad, however the developers are still working and consider it a beta version. Some app packages will crash the iPad since they were designed for iPhones. Users will have to go through the restore process and start over if this happens. Remember, jailbreak at your own risk!