DeNA's free-to-play Star Wars game is now available for iOS devices. Star Wars: Galactic Defense is a tower defense title where players can choose to play as either the light or dark side. The game features pretty standard tower defense game play, where players have three towers and one champion to defend their base. Players can also connect with Facebook to exchange resources with their friends.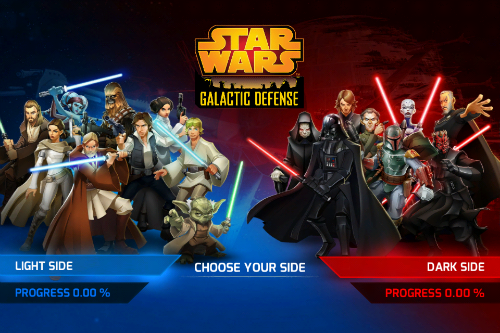 The game includes all the standard Star Wars characters such as Han Solo and Yoda. You begin the game with Luke Skywalker as your champion and can unlock others as you advance through the game. There are a total of 18 Rebel and 18 Galactic Empire champions to unlock.
The game's levels are broken down as individual Star Wars planets, such as Hoth, Endor and Kashyyyk. Each planet has several levels players have to defeat to advance to the next planet. Each planet also has a certain amount of medals for players to earn. For example, the first planet Tatooine has 12 levels and 180 medals.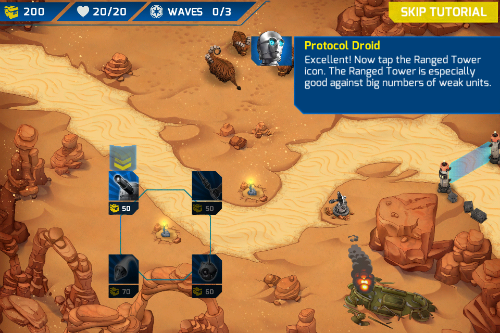 Star Wars: Galactic Defense does feature in-app purchases since it is a free-to-play title. Players can buy in-game currency starting at $1.99 for 20 gems. The gems can be used to purchase galactic Credits, Energy and other upgrades and starter packs.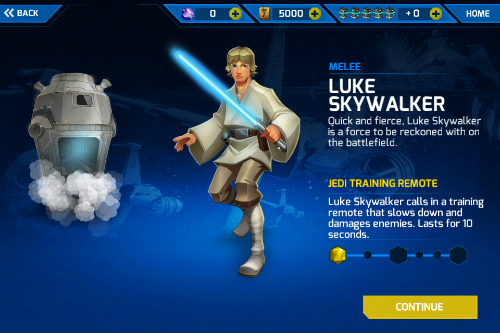 From a quick glance Star Wars: Galactic Defense looks like a solid game. The graphics have a fun, realistic, cartoon look and it offers hours of game play thanks to its many levels and being able to play on both the light and dark side. There are also achievements and other honors to earn, plus it offers online events for players to compete and leader board support. The game is available now for free on the Apple App Store. It supports all devices running iOS 7 and later and it is optimized for the iPhone 6 and 6 Plus.