Steve Jobs took the stage at today's Apple event to announce the next generation iPad. The iPad 2 features a 2X faster, power-sipping A5 dual-core processor and up to 9X faster graphics. Front and rear facing cameras for FaceTime video chat are included in a form factor that's 33 percent thinner than the original iPad.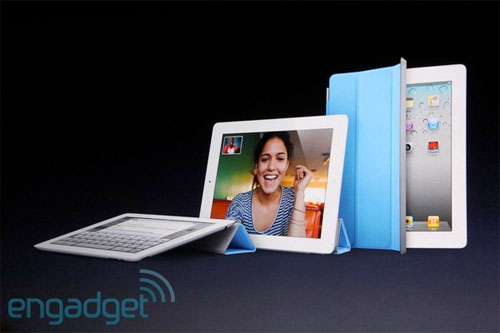 Weight is reduced as well, with the iPad 2 shaving off 0.2 pounds from its predecessor. The device will ship in two colors, black and white with a metal back. White is pictured above in this photo from Engadget. Models will come in Verizon and AT&T cellular data versions for compatibility with either carrier's wireless technology.
For some perspective on just how thin the iPad 2 really is, at 8.8 millimeters, the tablet is actually 0.5 millimeters thinner than an iPhone 4. Even with all of the added components including a gyroscope, the iPad 2 will achieve 10 hours of battery life. Accessories include a $39 HDMI adapter that will output 1080p video of any app on the iPad 2 screen.
Speaking of the iPad 2 screen, Apple has designed a smart cover that will attach via magnets to the iPad 2 and automatically place the device in sleep mode or wake it. This accessory is also super-thin, can be used as a typing or viewing stand, and will run $39 for plastic and $59 for leather.
iOS 4.3 will be installed on the iPad 2, bringing with it improvements to AirPlay, Safari speed enhancements, iTunes home sharing. Jobs also announced that the mute switch can be made into a rotation lock switch in iOS 4.3 settings. New apps available for the iPad will include iMovie, GarageBand and a mobile version of Photo Booth, as well as FaceTime.
The iPad 2 ships in the US on Friday, March 11. Pricing will stay at original iPad levels, with a 16GB Wi-Fi only model available for $499. At the higher end, a 64GB iPad 2 with Wi-Fi + 3G will retail for $829. 26 additional countries will see the iPad 2 on March 25.
Steve Jobs also gave a few Apple-related updates. Current users with Apple IDs total 200 million between the three stores, iTunes, the App Store, and iBooks. Apple recently shipped its 100 millionth iPhone, and almost 15 million iPads were sold in 2010, generating $9.5 billion in revenues.
65,000 iPad-optimized apps are now available on the App Store, blowing away competitors. Apple currently has a 90 percent share of the tablet market, and with the iPad 2 coming soon they intend to keep it that way.
See complete iPad 2 specifications at the Apple iPad Tech Specs page.