StumbleUpon has completely redesigned and rebuilt their iPad application for an improved experience on Apple's tablet hardware. Now available on iTunes, the revised software features a new Social Bar which makes it easier to see which user submitted the current content.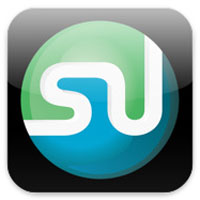 Visiting a user's profile is much simpler with Social Bar, and StumbleUpon has integrated the touch screen into its new app to make stumbling and commenting instant and more intuitive. While swiping through stumbles, the application automatically loads the next page while you read. This cuts down on loading delays while flipping through content.
Of course, the stumble button can always be used to find new random content. Sharing pages with family and friends is easy with Facebook, Twitter and email buttons as well. The app will also automatically sync your StumbleUpon account changes between all desktops and mobile devices, keeping your place and remembering items you've liked or commented on.
StumbleUpon founder Garrett Camp explained the new iPad app to TechCrunch, "I think we'll now fit into other slots of people's free time. It's just like the iPhone experience that people love, but it's so much better on the big screen." The company hopes to triple its tablet traffic in the coming months.
Currently, StumbleUpon processes over a billion stumbles every month. The service has 15 million users, with traffic from mobile device users increasing 35 percent every month. StumbleUpon 1.4 is a universal app for iPhone and iPad requiring iOS 3.0 or later. The app can be downloaded from the iTunes App Store for free.