The developer behind the popular iOS keyboard tweak SwipeSelection has launched SwipeSelection Pro. The pro version of the jailbreak tool has been rewritten for iOS 7 and adds a few new features users have been asking for.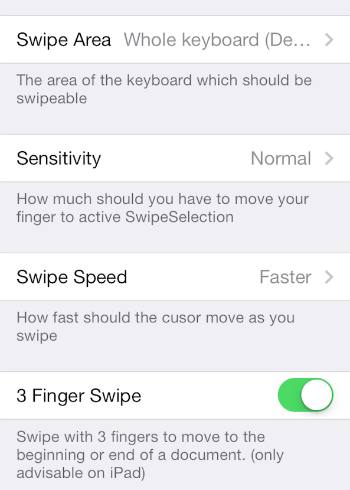 As you can see from the screenshot above, SwipeSelection Pro now allows you to select what area of the keyboard you want the tweak to work with. It also adds the ability to set the sensitivity, swipe speed and disable the tweak by using a three tap gesture on the shift key.
For those who have never used SwipeSelection, it is a highly recommended jailbreak tweak that makes editing text on your iOS device easier. Users can accurately move their cursor by dragging their finger over the keyboard, or quickly highlight text by holding the shift key and dragging. You can see the original concept video that inspired SwipeSelection here.
SwipeSelection Pro is now available for $1.99 on Cydia. Don't worry, the original free version is still available and now supports iOS 7, but it does not include the new features mentioned above.