After posting its strongest customer growth in 4 years, T-Mobile CEO John Legere told AllThingsD that more Apple products are coming to the T-Mobile network.
"I think there's a whole array of Apple products that we look forward to carrying," Legere said. "We will expand what we offer from them."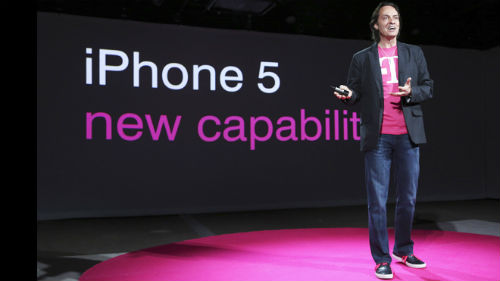 Legere is most likely referencing Apple's rumored iPhone 5S and low-cost iPhone 5C, but the second part of his statement could mean a T-Mobile iPad is in the works. T-Mobile was one of the last major U.S. cellular providers to carry Apple's iPhone, and it has worked out well for them. T-Mobile added 1.1 million customers after its iPhone 5 debut, and it also sold 4.3 million total smartphones, with the iPhone making up 29 percent of the sales. Of course a lot of T-Mobile's growth also had to do with Samsung's Galaxy S4, and its new Jump and Simple Choice plans.
T-Mobile could be looking to add the iPad 5, iPad mini with Retina display and the rumored iWatch to its roster of Apple devices. Apple's iPad fits in perfect with T-Mobile's UnCarrier payment plan, since it does not require users agree to a two-year contract to buy one.