T-Mobile has announced the second part of its new Un-carrier mobile initiative called "Operation Tablet Freedom". Phase one was the company's all new Simple Starter plan that offers unlimited talk, text and up to 500MB 4G LTE data for only $40. The magenta carrier eventually plans to roll out three "initiatives designed to advance the Un-carrier consumer revolution on multiple fronts".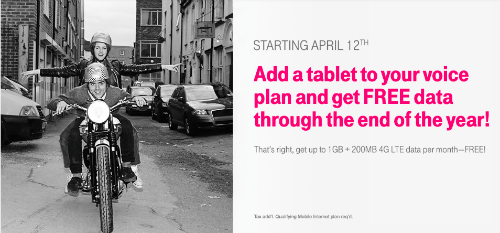 Operation Tablet Freedom is a "full-on assault against the restrictions and pain points that keep tablet owners from experiencing life beyond the Wi-Fi zone," according to John Legere, president and CEO of T-Mobile.
T-Mobile customers can now upgrade their Wi-Fi tablet to a 4G LTE-enabled model for zero down and pay no more than the original Wi-Fi-only model price. For example, you can nab a 16GB 4G LTE iPad Air for $499, instead of the normal asking price of $630.
T-Mobile will also pay your early termination fees if you're currently stuck in a contract with your old carrier, and will give you an instant credit based on your old tablet's market value.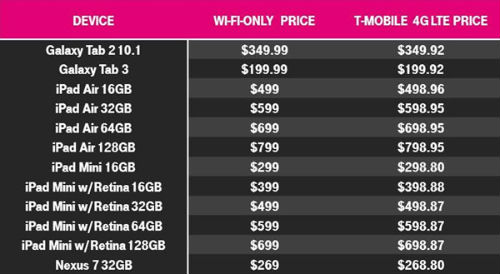 This is one of the best iPad Air deals we have seen this year, especially if you were considering upgrading to a 4G LTE model. This deal also includes the the iPad mini and Android tablets such as the Samsung Galaxy Tab 3.
This limited time deal begins on April 12, 2014 and of course includes some fine print. You can learn more at T-Mobile.com.