Friday was a busy day for the jailbreak community. Dev Team member MuscleNerd tweeted a picture of a jailbroken iPad 3 running Cydia 1.1.5. Hacker i0n1c showcased his untethered jailbreak on YouTube (see below), and Chpwn also tweeted pictures of a jailbroken third generation iPad.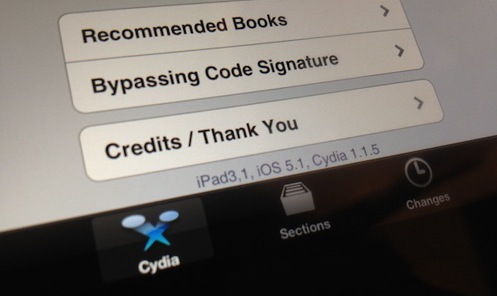 Even though this seems like some kind of jailbreaking record, it could be a few weeks before we see a public release. MuscleNerd said there was "no ETA" for his jailbreak, and i0n1c and Chpwn have been pretty silent as well. The Dev Team also warned iPad 3 owners not to upgrade the iOS version their iPad shipped with if they want to jailbreak their device in the future.
Pod2g, who helped create the Absinthe tool, was also said to be working on finding vulnerabilities in 5.1. That gives iPad 3 owners four possibilities of a jailbreak being released soon. We'll keep you updated.