Apple CEO Tim Cook all but confirmed rumors that the iPad mini with Retina display will be in short supply after its "late November" release. Cook told investors that he wasn't confident Apple would be able to make enough second-generation iPad minis for the 2013 holiday shopping season.
"It's unclear whether we will have enough for the quarter or not. We know how many we will have, but you really don't know the demand until you start shipping."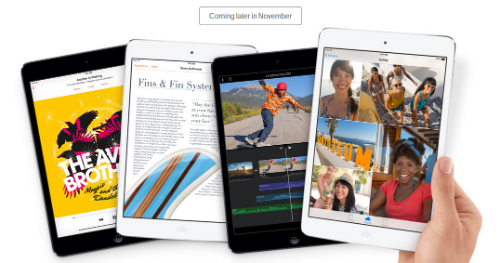 Cook also said he couldn't promise that "everyone who wants an iPad Air will be able to find one," when it starts shipping on November 1, but added he thought "it's going to be an iPad Christmas" this year.
Several analysts and even Reuters previously reported that Apple would be unable to widely roll out the iPad mini 2 at launch. The delay is allegedly due to Apple's supply chain being stretched thin, and not starting production on Retina mini displays until October.
The shortage could be why Apple decided to keep the original iPad mini around at a reduced price.
The iPad mini with Retina display will start at $399 for the Wi-Fi version, and $529 for the 16GB cellular model when it launches in November.