Developer Hamza Sood claims to have discovered references to a new iPad model with Touch ID and a settings and privacy page for Apple Pay on the iPad in iOS 8 beta 1. Sood posted evidence of his discoveries on Twitter.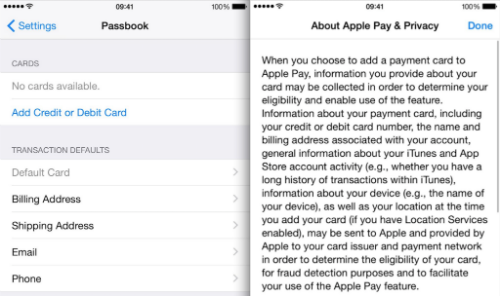 The image above shows an "About Apple Pay & Privacy" page found in the Passbook settings that describes what information Apple collects when you sign up for Apple Pay. Sood's second screenshot posted to Twitter shows a string of code that reads: "Pay with iPad using Touch ID". This doesn't mean the next-generation iPad Air will have NFC like the iPhone 6 and 6 Plus, it just means users will be able to use Apple Pay and Touch ID on their iPad to make in-app purchases or do online shopping.
Apple is expected to announce its next-generation iPad Air 2 in mid-October. Previous rumors have suggested that the new iPad model will include a Touch ID fingerprint sensor and Sood's latest discovery seems to confirm that those rumors may true.
More and more evidence is also pointing to Apple releasing a 12-inch iPad Pro in early 2015. Meanwhile there has been very little word on the next-generation iPad mini, making some believe Apple may discontinue the 7-inch tablet.