Next on the list of great ideas is the TouchFire screen-top keyboard, a new iPad accessory that provides tactile keys without extra bulk. In fact, an external keyboard isn't needed, because the TouchFire simply overlays the iPad virtual keyboard right on the glass display.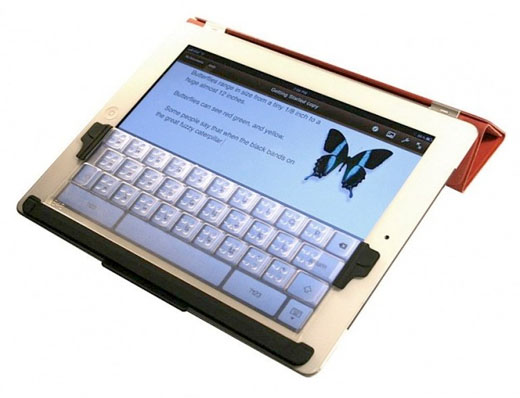 The silicone keypad is designed to fit perfectly on a horizontal iPad in typing mode. A non-slip surface on the bottom keeps TouchFire in place, and with the iPad 2 there are strategically placed magnets to anchor the keypad. The idea is to provide a typing experience closer to a traditional keyboard while using the on-screen virtual iPad keys.
The designers of the TouchFire were looking for keys that would spring back much like a typical keyboard and provide a similar tactile experience by needing a certain amount of pressure to register. The silicon TouchFire is designed to be lightweight, and features transparent material so the letters underneath shine through. Unlike external keyboards currently on the market, the TouchFire weighs only an ounce and requires no batteries or Bluetooth connection.
The TouchFire reminds us of the Fling Analog iPad Joystick, which uses suction cups to attach to the glass iPad screen. The accessory provides a tactile finger controller that can be used with a variety of iOS games. Unlike the Fling, TouchFire will simply fold up when not needed, even right into an iPad 2 Smart Cover.
The TouchFire screen-top keyboard is selling for $44.95, however the first production run is sold out. TouchFire units can be reserved by leaving a $10 deposit, which will guarantee delivery when the next batch arrives in late February or early March 2012.