If you are considering upgrading to the iPad 5 or iPad mini 2, then you may want to sell your used model before the next generation of Apple tablets are announced. Both Nextworth and Gazelle are currently accepting trade-ins for all older iPad and iPad mini models. You can get up to $400 for a used iPad, and up to $220 for a used iPad mini. This is a good time to sell since these values will decrease once the iPad 5 and iPad mini 2 are officially released.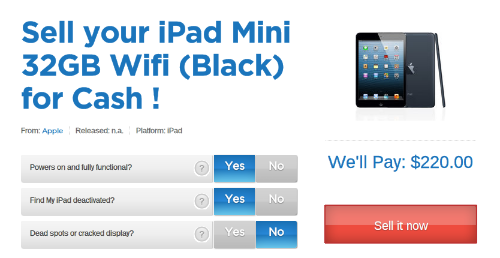 Selling your used iPad is easy. Just visit Nextworth.com or Gazelle.com, locate your iPad model, and truthfully answer a few simple questions. You'll then receive a quote based on your device's current projected value in the secondary market.
Nextworth will email you a paid shipping label and Gazelle will send you a box to ship your tablet in. Both Nextworth and Gazelle will pay you via check, gift card or PayPal once they receive and inspect your device.
The best part is you can lock-in your quote for up to 30-days. This is perfect since Apple is expected to announce both the iPad 5 and iPad mini 2 in a couple of weeks. So hurry up and see how much your iPad is worth before it is too late. You're not obliged to sell your device if you lock-in a quote, so there is no risk involved.