It's amazing how Atari games continue to reinvent themselves. The Atari's Greatest Hits app for the iPad is getting a companion called the Atari Arcade: Duo Powered joystick. The new joystick is reminiscent of the popular iCade cabinet shell, but will probably carry a cheaper price tag, and will be carried at retail stores like Walmart and Target.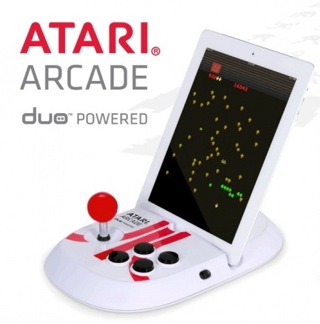 There isn't much info on the Atari Arcade yet (like when it will be available), but just like the iCade, it allows users to play classic Atari 2600 and arcade games via the Atari Greatest Hits app. The app features classic games like Asteroids and Centipede, and is available for the iPhone or iPad.
FEATURES:
• Get Missile Command for FREE!
• Access to 100 classic Atari 2600 and arcade games including ASTEROIDS and CENTIPEDE
• Bluetooth multiplayer for head-to-head play for titles such as WARLORDS, TEMPEST and more!
• Original cabinet and box art
For a complete list of games visit Atari's Greatest Hits.