The magical device pictured below may not look much like a Bluetooth iPad keyboard. In fact, this three-inch high little accessory projects a virtual laser keyboard onto any flat surface in its path. An optical sensor recognizes keystrokes in three dimensions, making the Magic Cube the ultimate portable keyboard from the future.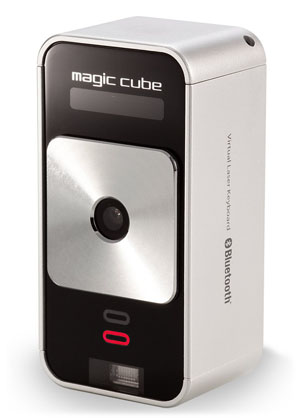 That is, of course, if it actually works. Preliminary reviews of a similar device, the Celluon Prodigy were not so flattering at CES. The Prodigy does have a much different design, being built into the side of an iPhone case.
The Magic Cube stands alone with 2.5 hours of life from a built-in rechargeable battery. The device pairs with your iPad, iPhone or Android phone and projects an invisible infrared horizontal plane millimeters above the laser keyboard keys, which are also projected. According to Hammacher Schlemmer, touch typing by breaking the infrared plane can keep pace with speeds up to 400 characters per minute.
The Virtual Laser Keyboard scores high marks for portability, at least. Measuring only 3 x 1.5 x 1.25 inches and weighing 2.5 ounces makes the accessory incredibly portable for a keyboard. When projecting the laser keys onto a table, the keyboard is sized at 9.75 x 4 inches and sports 0.75 inch wide individual keys. Assuming the infrared beam works as described, the extra size on the virtual keys could help minimize typing errors.
Bringing your iPad into the future will cost some money. The Magic Cube is expected to begin shipping this Friday for a cool $199.95. Rest assured, Hammacher Schlemmer includes a lifetime guarantee just incase the Virtual Laser Keyboard disappoints for any reason.