So far it looks like Target will have the best iPad deal on Black Friday, unless you're looking for an older model. Shoppers who buy an iPad mini after Thanksgiving will receive a $100 gift card from Walmart, and Best Buy will be offering $100 off the 16GB iPad 2. Meanwhile, Target is offering the 16GB iPad Air Wi-Fi model for only $479, and they're tossing in an additional $100 gift card to sweeten the deal. If you count the free gift card, you can nab the latest iPad for $379, compared to paying $299 for an iPad 2.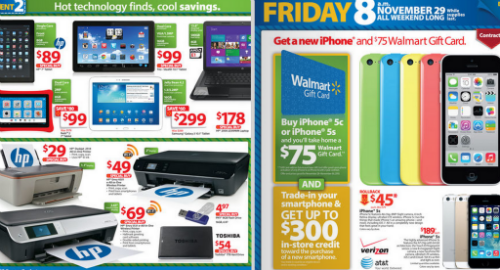 Other Walmart Black Friday deals include $75 gift cards with the purchase of the iPhone 5c and iPhone 5s. Walmart also has the best deal on the iPhone 5c which will be $45 until December 1st, and the iPhone 5s is $189 with a two-year contract.
Best Buy will also be offering discounts on 32GB iPod touches, 16GB iPod nanos, all MacBook Air models, and select Pro models.
Don't forget, there is still a lot of time between now and Black Friday, so both Walmart and Best Buy have plenty of time to announce additional deals to match Target. Plus there will be many more Black Friday sales announced in the coming weeks from other retailers, including Apple.