While most leaked iPad component photos come as no surprise, those looking forward to the next generation Apple tablet were thrown for a loop when the A5X was discovered. Until now, reports pointed to a quad-core A6 processor in the iPad 3. If the A5X actually ships inside the next iPad, what do we already know?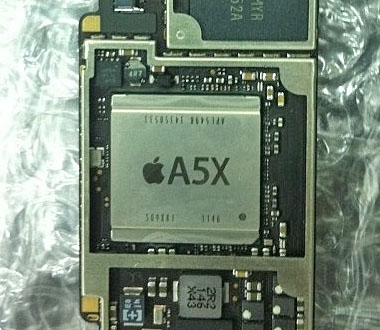 The jump from the A4 system on a chip (SOC) to the A5 SOC was noted by a jump in the processor codes used by Apple. The A4 was S5L8930X, while the A5 added 10 to this number: S5L8940X. The A5X label only jumps 5 digits to S5L8945X, implying the chip is a more modest improvement over its predecessor.
UPDATE: The A5X features quad-core graphics to power the iPad Retina display at 2048 x 1536 pixels. The new iPad features a 5 megapixel camera capable of recording 1080p HD video.
So what are the improvements? Reports have indicated that while the A5X would remain a dual-core processor, better graphics processing unit (GPU) cores could improve graphics processing immensely. This move by Apple would be required to power quadruple the pixels of the iPad 2 in a Retina display at 2048 x 1536 resolution. Apple beefed up the GPU once before going from the A4 to the A5.
The number 1146 on the A5X points to a manufacture date of November 14-20 of last year, week 46 of 2011. It's possible the A5X was a prototype that will not see the consumer market, but with the iPad 3 announcement expected March 7 mass production should be in full swing. Apple may even dub the next iPad the iPad HD or iPad Pro, as the device is expected to carry an 8 megapixel camera similar to that found on the iPhone 4S.
If the leak is accurate, it looks like Apple is waiting to launch the completely redesigned quad-core A6 processor in a future iPad or the next iPhone model in fall 2012.