Apple CEO Tim Cook said at the Goldman Sachs Technology and Internet Conference in Feb. that apps will make the Apple Watch essential and that users will be shocked to learn what it can do. Apple Watch owners will be able to use device to interact with apps in three ways: WatchKit Apps will allow users the ability to interact with apps directly on their Apple Watch, just like they do on their iPhone or iPad. Glances will provide "timely read-only information" when users glance at their watch display, and Actionable Notifications will allow users to "take action right from their wrists".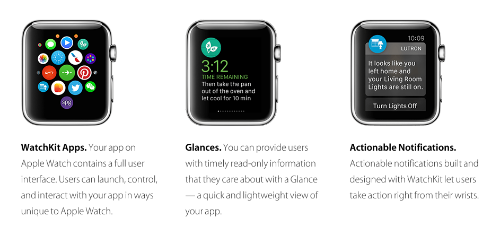 Apple released WatchKit and the first iOS 8.2 beta in November 2014 to let developers get started building their upcoming Apple Watch apps. iOS 8.2 will give users access to these apps from their iPhone when the update is released in April. You will need one of these iPhone models for your Apple Watch to interact with any apps.
Here is a list of announced third-party Apple Watch apps:
MoneyWiz 2 will allow users to enter any transactions they make right from their wrist. The app will feature four main screen buttons: Expense, Income, Accounts and Settings.
The Expense button will allow users to enter and keep track of all their transactions and save them to their MoneyWiz app. Accounts will show you a list of all your accounts and balances, and Settings will allow you to select a payee when making payments through your watch.
Letterpad was one of the first Apple Watch games announced. The app is a nine letter word game from NimbleBit -- the creators of the popular building game Tiny Tower.
Todoist is a "to-do" list for mobile devices. The Apple Watch version will allow users to quickly glance at upcoming tasks and reply to comments.
The minimalist app Clear will be coming to the Apple Watch as a iCloud-based reminder app.
Exact Fitness plans to bring their interval timer to the Apple Watch when it is released.
Feed Wragngler will give a user the ability to check current news without removing their iPhone from their pocket.
Fitness Spades is a game and fitness app that tasks users to do exercise based on playing cards.
More iPhone apps coming to Apple Watch
- Home Remote: Turn your Apple Watch into a remote control for your all your devices at home
- Infinitweet Pro: Convert long messages into images to post on Twitter
- OfficeTime: Time tracking and expense keeping app
- Peeps: Group video chat
Big companies such as Facebook, Twitter eBay, American Airlines, BMW, MLB, Pinterest and Nike all plan to launch Apple Watch apps when the device is launched in April.
UPDATE (03/09/2015) Here is every app listed on the Apple Watch Store after the "Spring Forward" announcement. These are the apps that will be available when the Apple Watch begins shipping on April 24, 2015.
Target
SPG
American Airlines
Nike+ Running
Instagram
MLB.com At Bat
BMW i Remote
Twitter
Citymapper
OpenTable
Evernote
TripAdvisor
NPR One
CNN
Honeywell Lyric
Green Kitchen
The Whole Pantry
Strava
Sky Guide
eBay
Redfin
PayByPhone Parking
Salesforce
Procreate Pocket
Dark Sky
Shazam
NYTimes
Mayo Clinic Synthesis
Invoice2go
Lutron Caséta
Rules!
PlayKids
Fandango
Citi Mobile
Expedia
Pacemaker DJ
Lifesum
Runtastic
Babbel
AMPLIFi Remote
BoxPop
CommitTo3
Mint Personal Finance
ESPN
Here are the stock apps that will be pre-installed on the Apple Watch out of the box:
Alarm
Apple TV and iTunes Remote
Calculator
Calendar
Clock
Fitness
Heart Monitor
Mail
Maps
Messages
Music
Passbook
Phone Dialer
Photos
Remote Camera
Settings
Siri
Stocks
Stopwatch
Timer
Weather
Workout
World Clock
This page will be updated as more apps are announced and released.