You'd be hard pressed to find anyone to argue with the notion that Apple as a company and in turn, AAPL stock, has been on a steady road of success and good fortune. AAPL, which has more than doubled in value, is currently trading at around $227 per share. Many analysts rate the stock's value well above $250 per share. With the iPad ready to hit shelves in just a few weeks, will another potentially successful product push Apple stock over the $300 mark?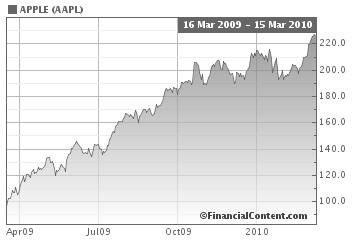 As mentioned above, it isn't uncommon to find analysts rating Apple stock well above $250. Some recent analyst values include: Piper Jaffray ($284), Broadpoint AmTech ($280), Kaufman Brothers ($253) and Deutsche Bank and Canaccord Adams ($250).
As a recent StreetInsider.com article points out, however, those projected values are based on
2010 EPS (earnings per share) numbers. With Apple nearing completion of its second quarter, the article suggests, it might be appropriate to base value estimates of AAPL on the 2011 EPS number, which is 13% higher than the 2010 consensus estimate of $11.64. Throw into the mix successful iPad sales, and $300 targets begin to look well within reason.
Whether the iPad is ultimately a success for investors remains to be seen, but with an estimated 150,000 iPads sold in the first few days of availability (in the US alone), things certainly continue to look up for Apple and its investors.
[via StreetInsider.com]